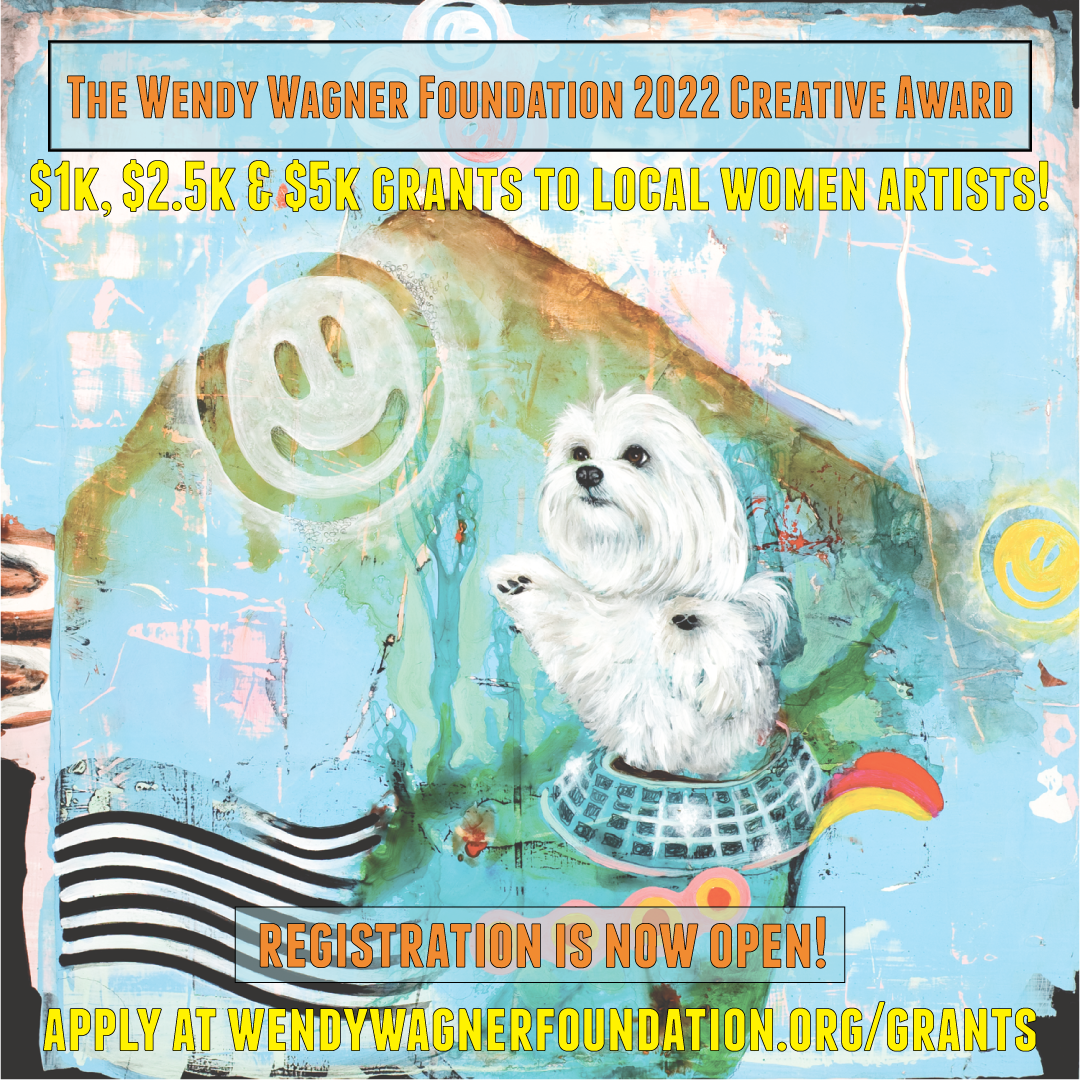 The Wendy Wagner Foundation 2022 Summer Creative Award!
OUR NEW GRANTS ARE LIVE!
1st: $5,000
2nd: $2,500
3rd: $1,000
The Wendy Wagner Foundation for Funding Creativity is a 501(C)(3) with a mission to provide ongoing support to the creative women who impact our lives through their art. The Wendy Wagner Foundation 2022 Summer Creative Award are three unrestricted grants given to three female visual artists within the greater Houston area who demonstrates original expressions of contemporary art.
Award/Grant Overview
•  The Wendy Wagner Foundation Creative Award program was established in 2018 to preserving the spirit, vision and legacy of artist Wendy Wagner.
• Recognizes exceptional talent among women in the field of contemporary art.
Calendar
• July 11, 2022 – Call for Artists begins
• September 26, 2022 – Deadline for Entries
• October 28, 2022 – Notification of Finalists
• TBD – Notification of Winner
Eligibility
The Wendy Wagner Foundation 2022 Summer Award is open to female contemporary visual artists, 21 years or older living and working in the city of Houston/Harris County. Individual artists and collaboratives working in all visual media and at any stage in their career are strongly encouraged to apply.
The application process is open to all female visual artists who:
• Live and work in Harris County.
• Have resided in H/HC for at least one year prior to the application deadline.
• Are not currently enrolled in an art-related degree program or long-term residency, nor planning to attend an art-related degree program or long-term residency in the coming year.
• Are not related to WWF directors in any way.
Visual artists working in any media may apply: painting, drawing, printmaking, photography, stills of video/film, sculpture (of any type of material), ceramics, mixed/multiple medias, installation, and other new or alternative medias.
Collaboratives are welcome to apply within a single application. One person from the collaborative should be listed as the contact person for that application.
We cannot accept submissions for music, theatre, or dance.
Submissions will be reviewed by a select panel of Houston artists, collectors and directors.
Conflict of Interest Policy: WWF requires jurors to disclose any potential conflicts of interest. If a personal relationship exists between a juror and an applicant that may compromise the ability of the juror to act as a neutral evaluator, the juror is required abstain from voting for that applicant.
We notify each applicant of the results at the conclusion of our review process. The name and work of the grant recipient and a link to their website (if applicable) will be published on our website.
If you have questions, reach us through our contact form or by emailing gr****@we*******************.org.